In my Journal Cover video tutorial, I mentioned that you can embellish the exterior piece however you like. Really the possibilities are endless. Here's one I made for my friend, Mandy.

I've never done appliqué quite like this before, but I had seen this style in a book at Inspire! and I thought it would look good as a journal. I especially love the sketchy-ness of the black stitching.

I didn't take pictures as I made this particular cover because I was trying to get it made in time for Christmas and, of course, I had procrastinated and was running late on time. The process is simple enough, so I'll just explain it here.

First, I fused woven interfacing to the linen for stability – it had a bit of a loose weave and I didn't want it to get wonky. Then, I cut flowers, petals, and leaves out of fabric from my stash and, using Steam-a-Seam, I attached them to the linen.

Once all the pieces were attached, I used a darning foot to free-motion stitch it all in place. I went around each piece twice, not worrying about being perfect, so that it would have a sketched look to it.

One element that I incorporated in this design that isn't in the video tutorial it the inside pocket. I attached it to the inside flap before sewing the flap in place. Also, I left off the pen loop.

My favorite part, though, is the butterfly on the back – I made her out of flower petals.
I'm so pleased with how this journal cover came out that I'm going to use it as my submission to enter the Sew-vivor Sewing Competition at Family Ever After. After joining in the fun of See Kate Sew's Clutch Along, I thought I would up the stakes and try my hand at a contest.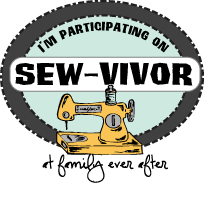 I'll keep you posted on the goings-on with Sew-vivor, whether I make the top 10 or not; it'll be fun to follow along and see the creativity that a little friendly competition can inspire. Still, wish me luck, just in case!
You may also like: